Something about sleeping in a hammock in the middle of the Hornick living room after stuffing myself with delicious cookies, made my Chris' better half, got me in the mood to play some rock n roll this weekend. It was going to be a South Dakota double header this weekend for Judd Hoos! Devin and I had came back from Denver and were crashing at the Hornick mansion before leaving on Friday morning.  Thus, the hammock and cookies on Thursday night. After everyone arrived and packed up the band cruiser we were on the road around 10. We were headed to Madison, SD!
Judd Hoos was ready to rock this weekend! We had been promoting the shows like crazy all week and were having a good buzz going around that it was going to be a great weekend. The ride was good and not too long… (That's what she said.) We headed straight to the hotel to check in and relax a bit. Hornbot had been working very diligently all the way to Madison on a new video of Judd Hoos doing a cover of One Republic's Counting Stars. So as soon as the Bot got some wifi, we posted that shit! Go check it out if you haven't already!
We changed our strings and headed over to the bar to do our sound check thing. This was the smallest stage we had played on yet, so it was gonna be tight. We made it work well though. I mean we are Judd Hoos and can make any stage look pro. Got everything sounding perfect and ran through a few things before leaving and heading back to the hotel. It was time for a delicious gas station food dinner and get our game faces for the gig. At this time Devin was knighted a new nick name, Drinky Drank. Not for why you would think, but because his serious addiction to energy drinks.
[singlepic id=21711 w=320 h=240 float=right]Judd Hoos was in the house again and we got ready to rumble this little stage in Madison. The first set felt pretty comfortable. The crowd was in the middle of shock and awe at what we were doing. They finally got to dancing and rocking out in front of the stage. After the first set I took a walk around the bar. It was getting really busy and full of Judd Hoos fans! We returned to the stage and had a killer second set. Energy was coming off the crowd and we were throwing it right back at them all the way to the end of the third set. I have been so welcomed by dedicated Judd Hoos fans who have shared with me how much they like the "New Hoos." It is so cool to hear and I still feel so blessed to have the opportunity to play with these guys.
The night in Madison was great. Packed bar, packed dance floor, and happy fans all night long! Load out took a little while but it wasn't long before we were all in our hotel room and reminiscing of another great show. Andy had some good friends in town who hung out with us for a while in the hotel room until we all were sleepy eyed and ready for bed.
The next morning Chris and I got up pretty early and got some breakfast. I decided to take advantage of the pool and jumped in the hot tub! All of sudden this bus pulled up to the hotel and the Chicago Bears football team all piled out of it! ….. Not really (Sorry Andy!) But a bus did pull up and a bunch of basketball girls did get out! Just a day late though. The Judd Hoos boys all got packed up and checked out. We got some lunch/breakfast on the way out of town and wrangled up some Pizza Ranch buffet. We hung out for a bit and talked about musician/guy stuff. I mean what else would we talk about?
We had a short drive to good ol Watertown. And we weren't in any hurry considering the hotel we were staying at was… well, let's just say that we didn't get bed bugs this time. We were all pretty tired from Madison, so we took some naps before headed over for sound check. After moving some stuff around we got a great set up going. It was amazing at how the stage area looked before and then was transformed into the Judd Hoos Millennium Falcon that takes you to a rock show out of this world!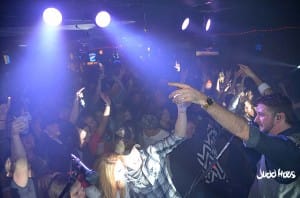 We stopped at a local brewery/pub for a quick beer and appetizers before getting ready for the show. Drinky Drank was getting his drink on, Eight Mile Andy was hooded up to rock, Hornbot was suave and styling, Shane Dawg was busting out of his KISS shirt, and I had my hair perfect and was ready for a rock show. Shooters was packed already and we were all super excited for a kick ass night. Which it turned out to be of course! Thank you Watertown for giving us the best show we have had yet. The energy was amazing, the crowd was so into it, and we played really well. I would not be able to choose a favorite part of the night because every set was rocking. That bar was packed!! I had this feeling towards the end of the third set that I didn't want to be done playing yet. That is when you know it is a good show. We loaded out and had ourselves a little after party back at our shady hotel, The Guest House. We jammed on a few favorite songs of ours and had a great time winding down before one by one, we drifted off to our own rooms.
Another kick ass weekend in the books for Judd Hoos. South Dakota is literally a place Judd Hoos calls home, and it was shown with such support this weekend from our fans. Thank you to you all. Thank you to the girls who bought the shirts to show us how you really feel about us, and thank you to guys who screamed louder than the girls! We had so much fun. Reminder to all of you to check out our new video of the Counting Stars cover! Share Judd Hoos with your friends. They will thank you for showing them a real rock band and changing their lives forever. Next weekend get ready Sioux City, IA and Omaha, NE for a weekend you won't forget! Stay tuned for more On the Road with Judd Hoos. See you guys soon!
– T Bills
Words of the Weekend:
"Drinky Drank"
"Demonic Imps"
"The Guest House"