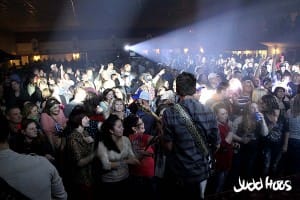 It was a cold, wet, foggy Friday morning in Rapid City, SD and it was time for another kick ass weekend of rock n roll with Judd Hoos! Shane Dawg picked up us Bills Bros at our little bachelor pad and we went down the street to get Eddie Van Andy. Hornbot was headed out of town with his girls Sara and Lucy, so the four of us headed out of Rapid and towards Scottsbluff, NE. On the way we stopped at a gas station (big surprise) and as Andy enjoyed some gas station bbq sausage we watched to see if zombies were going to come out of the fog. No zombies… but you can't be too careful when there is zombie fog. Anyways, it was not too long of a drive to Scottsbluff and we got there in no time. This was one of Andy's old stomping grounds, which was clearly proven by telling us a review of every restaurant in town.
Everyone was very excited to play tonight. Devin and I had played here at 18th street before in our old band, Joe Fornothin, and it was Travis' big going away party. We were all expecting a good turnout. Another thing to be excited about is that Mark the Shark (Tyler and Devin's dad) was returning this weekend to be a part of the team. After checking into the rooms, Judd Hoos assembled and headed to the bar to help the crew finish setting up and get a good little sound check in. We ran through a couple new songs we are putting together for you guys and they went pretty well. It was the hurry up and wait for the show part of the night. Back at the hotel we all met up with our loving and supportive families who came out for the show. Big shoutout to Chris Hornick's mom and dad, Becky, Meagan, Sara (band wives) and all their crew who came out to support us. Thank you for traveling from your homes. We feel loved. We were all slicked up and ready to rock and headed to the venue. It was pretty busy! Took the stage at 9 and showed everyone we weren't messing around and it was time to get crazy. Great crowd and really fun to have friends and family with us. The second set took off with tons of energy and 18th Street was bumpin! Friday nights are always fun because we have all been waiting all week to play some music together and for our fans. The rest of the night was a blast. We got Travis up and embarrassed him a little and finished with an encore before the crowd was getting kicked out. We got finished loading out at a decent time and topped off the night over a couple drinks down in the basement with the staff. Perfect.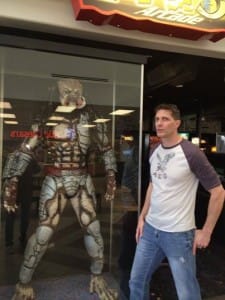 Morning came too early as it usually does on Saturday after a show. Judd Hoos had a long drive to Columbus, NE so we had to hit the road pretty early. Mark the Shark was in a debate if he wanted to drive out with us and finally decided since he had come this far, he would complete the weekend with us. Said goodbye to our loved ones, and hit the road convoy style. We talked about a horse named Sebastian and whether horns or tails would be better. It was a pretty long day in the band cruiser. Shane picked a fight with Predator in a gas station and Drinky Drink rode along with Mark the Shark. The weather had finally given us a break today and it was really nice out. Very refreshing. Every time we got a chance to get out of the van we stayed outside as long as we could. It was weird not freezing all the time. We found out that there was already 450 pre sold tickets for the show! A very convenient thing about the show was the venue was the hotel we were staying at too. Everything was shaping into being an epic night and it was.
Sound check was a breeze because the crew got us set up nicely on a big stage in a huge room. We grabbed a "quick" bite to eat before showering and getting ready for the show. It was so cool to see an actual line down the hallway an hour before the show. All people just waiting to see us play. We were all pumped. The room was packed, the lights were glowing dimly through the fog on stage, and the music got louder on the PA until 9 when we took the stage. Even Bob Z was giddy at the how many people were there. There is something incredible about big stages. The amount of room you have to run around and jump and being above the crowd to be able to really put on a performance. This was probably one of the biggest shows me personally has played so far. I caught myself looking out across the crowd and couldn't help smiling. The show was amazing! Every set had people up against the front of the stage, drinks waving in the air, people dancing up on the balcony's of their rooms, and Judd Hoos putting everything we had into every song. It meant so much to all of us that this many people came out to support us. I know I keep saying it every weekend, but this was the best show we have had so far. What can I say? They just keep getting better and better.
So many Judd Hoos fans approached us after the show and told us how much they enjoyed it and the new line up. People dispersed to their rooms to continue to party while we started the load out process. Mark the Shark was such a huge help again this weekend. With some help we got the the trailer loaded really quick. It was time to wind down back in our room and have a little jam session. We even had a little audience in the room with us. It was so much fun. We lost an hour due to DTS and it felt even earlier than usual in the morning when we had to get up. Mark the Shark had some breakfast with us before having to head back to Denver. Judd Hoos hit the road for our journey back to Rapid City. It was a long day in the van again, but we keep each other pretty entertained when we aren't sleeping or taking pictures of each other sleeping.
Thank you thank you thank you to everyone who came out this last weekend. It was such a blast meeting new people and long time Judd Hoos fans. You all really know how to make a guy feel welcome. To everyone in Scottsbluff who helped us send Travis off right and have a kick ass night, thank you so much. Columbus, you guys were the best we have had yet and can't wait to see all of you in that area again this summer! We had an awesome weekend. It was a couple perfect to shows to go out on a break. Judd Hoos has the next weekend off but we are hitting the road to rock a private party on March 20th and going to Worthington, MN and Aurelia, IA on March 21st and 22nd. My first time at either place, so I am really excited. Don't forget to check out our youtube vids, and see if you can spot yourself in any pictures from the weekend and stay tuned for more on the road with Judd Hoos!
– T Bills
Words of the Weekend:
"aw naw"
"sausage"
"big foot"