Is winter going away this year? It seemed we were doomed for a frozen weekend starting on Thursday. It was an exciting day for the Bills Bros. Drinky Drank and I moved in to our new apartment in Rapid City, SD. Finally not sleeping on a couch or a hotel bed! Another exciting thing going on was Mark the Shark (Tyler and Devin's dad) was coming up from Denver to go on the road with Judd Hoos. So in order to fit everyone in one vehicle we were going to bring the big white van we used to use for Joe Fornothin. We left our new place to pick up our sexy guitar player, Andy Young, just down the road, and headed to the rendezvous point. The Hornick Mansion.
We all met up and loaded in the big white van. There was so much room for all of our gear which was really nice. We were finally on the road again for weekend number five of the new Judd Hoos. Mark the shark provided us all with entertainment and being the professional driver for most of the weekend. It was kind of a long drive to Sioux City. But we finally made it. Judd Hoos went straight to the venue to finish setting up and sound check. The sound check was great and the stage was pretty cool. The band November 35th and Anna Taylor were opening up for us and Anna Taylor was going to get up to play some songs with us. Anna will be appearing and singing on The Voice this season so make sure you like her music page and follow this little rockstar's career.  She got up and and played through the couple of songs with us during sound check. Sounded awesome! All of us left Chesterfields and went to check in to the hotel. We were running tight on time and the front desk lady was determined to keep us from getting what we needed done. Finally we dropped our bags and gear off in the rooms and headed out real quick on a food/new hat mission. We went to Target and MickyDees and the mission was accomplished. Still pressed for time we hurried back to the hotel and got all fresh for the gig.
It was snowing and extremely cold when we showed up. We could hear November 35th just finishing up their set as we walked into the bar. It was packed! As in elbow to elbow and shoulder to shoulder. Always a great thing for us. The stage was flooded with musicians and sound guys trying to tear down and set up equipment so we could start the show at 9 30. Judd Hoos came out alive and kicking with lots of energy to a packed house. We got Anna up and it was an electrifying performance. Hard to believe the girl is only 16 between her voice and stage presence. The crowd loved it. There were loads of Hoos fans in the crowd. The second set was probably the best set we have played yet as a band. Everything was tight. We were listening to each other and putting on a killer show for the amazing crowd. The third set was equally as fun and energetic. We played a couple Hoos originals which were received very well.
After our encore we got off stage and visited with fans and each other about the show until it was time for the dreaded load out. It was tough because the door out was all the way across the bar. So we were hauling stuff through the whole place out to the trailer into a cold snowy night. Luckily we had a lot of help from Mark the Shark and the crew and the band worked hard to get out. It was kind of cool, once all loaded out we parked the truck and trailer across the bar and all loaded in the big white van. The whole crew and band (minus Bob) were in the van. This doesn't happen very often where all of us are so close and I couldn't help think how cool it is that we all work so hard together to put on this amazing show. Ten guys all working towards one goal of putting on a kick ass show. Anyways, we got back to the hotel and headed to a hotel room with the "party pack" (leftover beer and liquor from last weekend) and did a couple jams. We were all so tired. I think Shane Dawg said it best that this was probably the most tired we had all ever been after a gig. A couple of us were falling asleep sitting up with beers in our hands. Needless to say we packed up the party pack and headed to bed all around the same time.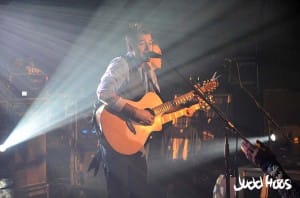 Oh the glory of the sleeping in after being up until 5 AM. We all got some much needed rest and hung out in the hotel lobby while the van warmed up before heading down the street. It was time for some Famous Dave's BBQ! Judd Hoos was hungry and needed some delicious meat and corn bread. After stuffing ourselves we figured we should hit the snowy roads and get to Omaha, NE. Luckily for us we had Mark the shark behind the wheel and could all feel very safe getting into town. The drive went by so fast compared to the one yesterday. We had plenty of time to all check in to the hotel and get some good naps in. Yes, it might seem all us musicians do is just sleep and eat, but we do actually work pretty hard. Play hard work hard, I am making it the official new motto for JH! We loaded up the big van in the afternoon and headed over to The Chrome. Shoutout to the crew for having a kick ass set up. We arrived and were able to set up our gear and sound check very fast. We even had time to put together a new intro to put into the show.
After sound check we went back to our hotel and got sexy and smelling the best we could to rock Omaha. Yes Drinky Drink and I are from CO, but it was really really cold out on Saturday night. When we got back to the bar from the hotel I think all of us were jogging from the van into the club. This did end up hurting our turn out a little bit. But I was surprised at the dedicated Judd Hoos fans ready to rock and see the new Hoos. The show went really well. Our light show has been coming a long way and added so much to the show. We all played really well. A few hiccups maybe, but overall everyone was on their game and of course we had a packed dance floor most of the night. It was so good to see some very friendly faces in the crowd and to be taken such good care of by the staff. Thank you to all of you for making us feel welcome and supporting us in Omaha.
Load out was smooth. Mark the Shark and crew were getting shit done. And it wasn't long until we were ready to go back to the hotel. Unfortunately somehow the party pack was left at the venue while the van got loaded. A few new friends of ours joined us for the little after party until it was time for bed.
It was such a great weekend. This was show numbers 6 and 7 for the new Judd Hoos experience, and we couldn't be happier with how this is going for all of us. By summer time this show is going to be so epic. There is no doubt that 2014 has very good things in store for Judd Hoos. Thank you November 35th for opening for us and Anna Taylor for getting up and singing with us. A huge thank you to the Judd Hoos fans who came out and stayed all night and partied with us. As Bob Z says, "We are just here to get along!" And that is exactly what we are doing. Thank you to the new Judd Hoos fans who came out to see us for the first time. We hope to see you all again very soon. Get ready Scottsbluff and Columbus, NE for a rocking time time next weekend. We are bringing our A game. Thank you again to all of the fans and stay tuned for more on the road with Judd Hoos.
– T Bills
Words of the Weekend
"Mark the shark"
"Macdonalds"
"cold as f#*k"