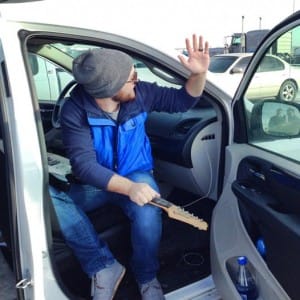 It was a South Dakota kind of weekend! Judd Hoos played in Aberdeen and Watertown, SD. We had a blast coming back to The Zoo and Shooters where we have many fans and made new ones. The Bills Bros woke up late to meet up with everyone to get on the road. But that wasn't the only delay we would experience on this Friday morning. Our sound guy A-Ron's car broke down in Sturgis and we waited at the truck stop in Rapid for him to get a ride there so he could ride with us up to Aberdeen.
Six guys packed in a mini van with a trunk full of instruments and a roof rack packed with luggage. I am not good at math, but when I was sitting in the back on the way to Aberdeen I was running the numbers through my head and that is a lot of weight in that van!! Shane Dawg ended up being the sole driver for this trip up north. It wouldn't be a complete Judd Hoos road trip without gas station stops, 10 questions with Zak Fronce, and Chris working diligently on some project for work in the van.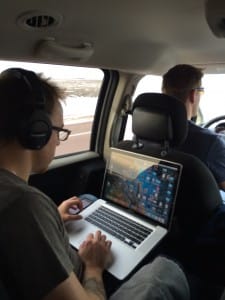 We rolled into Aberdeen safely and went to The Zoo to get all set up. We had all practiced a U2 song during the week so we ran through it for sound check and it sounded awesome. We ended up playing it both nights during the show.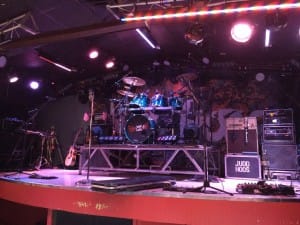 After sound check we went to the hotel to check in and the front desk guy Dewayne had our room keys waiting for us. He wanted to get a picture with the band! Very nice guy and one of the easiest check in's ever!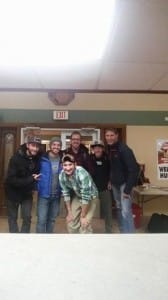 Our show at The Zoo went great! We all played well and the crowd had so much energy. Every set had the dance floor packed with people pushing up to the front of the stage. The stage at The Zoo is about 6 feet tall so it is crazy to look down at all the people going crazy over the music. Make sure you don't fall off a stage that tall!
It was a great show. Great to see some familiar faces and I was even approached by someone who told me they liked my blogs, which was really great to hear. We loaded out into the cold and got everything torn down and into the trailer pretty quick. All of us were tired from traveling all day and being done with the work week. But that didn't stop us from hanging out next door with some good friends for a beer. Back at the hotel we were hanging out in the hotel being innocent and very quiet when the front desk lady came knocking on one of our doors saying we needed to be quiet! This doesn't happen very often with the Hoos. We had dummy locked our doors so we could get back in and she had closed them. So after she told us we needed to go back to our own rooms she had to let us back in them! I guess you aren't a real rock band if you don't get asked to be quiet in hotels.
Aberdeen was great but it was time to go to Watertown when Saturday rolled around and we were rolling out of our beds before check out. At this point when we were waking up, Bob had been driving the truck and trailer to the next show already and was talking his way out of ticket!
Bob is quite the salesman as well as a great frontman. Shane, Andy, and Chris were all very excited to get over to a sports bar to watch the Nebraska Husker game. Us Bills Bros are slowly being converted into fans I think. We found a great little bar called Pounders with some excellent beers on tap and good food. Andy brought up that we should just start being hotel and restaurant critics with how much we travel and go out to eat. I think he is on to something! So if we were to critique Pounders I would say a majority vote of 4/5 stars. We got on the road for our short drive over the Watertown. The band had some time to relax before we had go set up and sound check. The check in on Saturday was quite different than the one on Friday. We each had to photo copy our drivers license and sign a paper (in pencil.) Shane had gone to his room and there was stuff in it! Devin had a hole going through his blanket and sheets and a weird brown stain on his pillow. At least there were no bed bugs! We think. Majority vote for this hotel, 1/5 stars.
After naps and relaxing a little we went to set up. Shooters is an awesome bar to play in but its definitely one of the smaller stages we play on. It was going to be tight on stage! I don't remember how we fit up there last time. We all made it work and were sound checked and going back to the hotel in no time.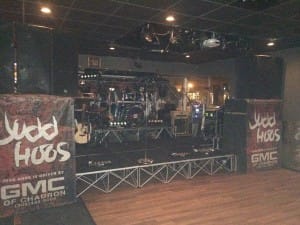 It is tradition that the band goes to Dempsey's Pub for beers and some dinner before the gig. We had a great dinner and it was fun to spend some time together without having to worry about where we needed to go or what song we needed so play. Majority vote for Dempsey's, 4/5 stars.
The show in Watertown was a blast! Literally. The dance floor got packed very quickly and the energy in the bar was very high. Everyone was digging the Hoos! I think there were at least three fights that I could see. They were all girl fights too. I see it happen so often. The audience will crowd up to the front of the stage and the people in the front row get pushed up into the stage and they push back. Before you know it you have pissed off drunk people pushing each other! And then the fights start. It is normal. There was one part of the show where Bob called security up to the dance floor and disappeared off to the side of the stage to help carry this lady out; all while we was still singing! We had a great response from the crowd. Our new songs went over well and we all played great. Load out went really quick with everyone working hard.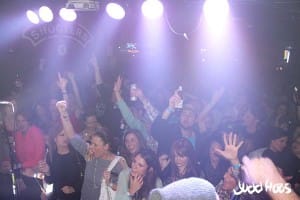 Back at our lovely hotel, we had a little jam session. It had been forever since Chris, Andy, Shane, Devin, and I had all played some songs in the hotel room after a show. It was really fun. Slowly but surely people snuck away to their rooms while Devin, me, and our Shooters friends were left. We hung out all the way into the early hours of Sunday morning. Somebody said something about there being some "red jelly" on the end of my mattress. Which ended up being blood! I don't know what from. There are only so many ways you can get blood on the end of a mattress right? Grrrooosss. Such nice hotel rooms we had…Anyways, it was fun to wind down and hang out before getting a little sleep.
You could tell we were all exhausted when we got into the van a little after ten on Sunday morning. On our way back to Rapid City we picked up some cars from Bob's car lot. The convoy was on our way back home. It was super windy but we all made it
So there you have it. Another crazy Judd Hoos South Dakota rock n roll weekend in the books. We have this next weekend off for Thanksgiving. It will be good to spend time with our families and learn a couple more new songs to put in the show! We are going up north again in a couple weeks, but this time even farther up to Bismarck, ND. Judd Hoos doesn't get to come up to ND very often so we are excited to hit up this market and show em what we got! Thanks to all who came out over the weekend and made it special for us. Stay tuned for more on the road with Judd Hoos blogs!
TBills