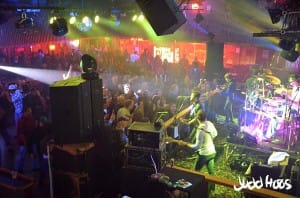 After only one weekend off with what seemed like a month I speak for everyone when I say we were all ready to get on the road for a kick ass Judd Hoos rock n roll weekend. And even better we were going to be able to play three nights in a row. The first was a private party at a good friend of Bob Z's house just North of Sioux Falls. When I say house I mean more like a compound! This place was amazing. It isn't very often when we get to stay in the same house that we are playing at.
Connected to the house was this huge barn set up for an awesome party. We had a stage at one end that we set up the Judd Hoos station of rock and there was no shortage of alcohol anywhere. It was already time to shower and get ready for the party before we knew it. The lights in the barn went out and it was time to rock. We hit them hard with a great first set. It was a little difficult to get everyone pulled away from the march madness on the TV but there were still people dancing. I think one of the funnest things about the show was how many Judd Hoos fans there were. We waited for the basketball game to end on the first break and got right back into it. As usual people couldnt resist the urge to get up close to the stage and dance. Everyone including the band was having an awesome time. Bob got a few friends on stage to sing with us and we ended up playing the longest set we ever have for this crowd. It was a great night.
Load out was a little interesting because Judd Hoos has a new trailer and this was the first time we were loading it. And.. well it is hard to go to work when there is no bartender telling you to finish that beer. We walked into the kitchen after load out and our hosts were making breakfast for us at 3 in the morning! One thing you must know is that musicians are very very hungry after playing a show and loading out. So needless to say bacon at 3 AM was perfect. Drinky Drank was told he is a ginger and has no soul! We stayed up for a while and told some stories until it was time to get some sleep. A few of us fell asleep in an epic theater room in the basement while others went to beds and couches. Thank you again to our wonderful hosts for letting us stay and take care of us while we shared our music with you.
Judd Hoos got to sleep in the morning! I made coffee with the Keurig for everybody and we hung out for a bit in this beautiful house. We even watched some Nebraska basketball in the theater room before hitting the road. It was a short drive to Worthington, MN today so we had lots of time. It was also Chris Hornbot's birthday! So of course we went to Qdoba for lunch. A special treat to all of us. Burritos are a delicacy to Judd Hoos. We made a few other stops in Sioux Falls for some errands before driving up to Worthington. We went to our rooms at the hotel and crashed for a little while before we headed out for sound check. It was so cold out. Just being outside for the few minutes to get the guitars out of the van would make you freeze. The bar was a really cool venue. A big room focused on the stage with a balcony going all the way around the room. Sound check was a breeze and we all headed back to the hotel. Grabbed some quick gas station dinner items before all getting ready for the gig and loading up again.
Back and forth from the hotel to the venue is the story of our weekends. Judd Hoos was in the house and we were all excited to rock Worthington. It took a couple songs for the crowd to warm up the dance floor, but it didn't take long for them to be right in front of the stage. After more than a month of playing with Judd Hoos, I am convinced that it is not a Judd Hoos show without people coming up to the front of the stage and rocking out with us. We had such a good time. I still love meeting all these die hard JH fans and hearing what they think of my brother and I joining. We made sure that Chris was having a good bday with a proper amount of tequila shots and the crowd was eating up our delicious rock n roll all night with a never ending appetite. Throughout the night, we signed a cowboy hat and threw it out into the crowd and played our two new songs, Separate Ways and Love Don't Die. They went over very well. At last after an epic encore we had to say goodbye to our fans and start loading out. It was still freezing cold outside which made for a tough load out but with everyone working together we got it done pretty quick. Back at the hotel we all hung out for a bit and wrote some songs about finger monkeys. One of our favorite topics. But it was one of those nights where we were all drifting off in our seats, so we hit the hay.
It felt like it was Sunday and we were going to have to drive back to Rapid, but thank the rock gods, we were going to play one more show this weekend in Aurelia, Iowa. It was a great weekend for routing, because all of the shows were like an hour away from each other. So we could sleep in and have plenty of time to get to our next shows. Judd Hoos went to the local Hyvee and got some breakfast. Shane and Andy had the right idea with the salad bar where the rest of us went with some Chinese food. Back on the road again and heading to our third show for the weekend. We were supposed to have sound check early, so we checked in to the hotel and headed straight to the bar. It was in this tiny little town. The bar was a pretty big square room with a green room behind the bar. We took a little extra time and dialed in some vocals and we were all sounding real good by the end of sound check. Since sound check was done so early in the afternoon we went back towards the hotel and decided to try out the local Mexican restaurant. Pretty good stuff but not feeling so good after our naps at the hotel! We all needed the rest though.
After naps and showers, we started to work on a new song Andy wrote. We all were jamming on it for a little while before heading out to the bar just in time to start! The bar was packed! From the first song people were dancing and packed in front of us. It was so easy to put lots of energy into the sets because of the crowds energy. I couldn't believe there were so many people when the town was so small. We played very well and our new songs went over great again. It was nice to relax on the breaks back in the green room. It got so hot up on stage. But the show was such a success and we had a great night. It was probably the best night of the whole weekend. We set a record for load out and got everything in the trailer in almost one hour. After load out we headed back to the hotel and had a little Judd Hoos song writing session. Even Bob Z joined us to help with vocals. It sounded so good. Very good things coming out from this new Hoos. Be excited for these new originals we are writing and be ready for some to be in the show very soon.
It was such a fantastic weekend. Judd Hoos keeps getting better from the music to the production side of it too. Our light guy Zach has come a long way in making us look better and better and the sound gets better with every show. And of course Devin and I keep getting more comfortable with the material and playing in the band. Someone this weekend approached me and said, "It seriously looks like you guys have always played in Judd Hoos." It is easy to portray that when we are all so close off stage too. We are certainly a team, a tight group of friends, and a force to be reckoned with. I told Shane when we pulled up to the Hornick mansion on Sunday that I was sad because we have to wait a whole week to play another show! Judd Hoos thanks every single one of you die hard fans and new fans we met this weekend for coming and supporting us. 2014 is such a big year for us and we are glad that you want to be a part of our epic journey. So thank you!! We are headed up north to Bismarck, ND next weekend. Come out and enjoy our music while we enjoy your company. Stay tuned for more on the road with Judd Hoos and we will see you all soon!
– T Bills
Highlights of the Weekend:
house party
soulless ginger
Mexican food
original music